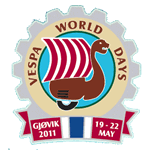 Vespa World Days 2011 is going to be held in Norway this year. Thousands of scooterists from all around the world will travel to Norway for the annual gathering. The event will start on Thursday, May 19 and will continue through Sunday, May 22. Registrations will remain open until Sunday, May 15, so you have still 2 days left to join the Vespa World Days.
Vespa Club Gjøvik, in partnership with Vespa Club Norge and Vespa World Club will be hosting Vespa World Days 2011. Group rides, acrobatic shows, live music, dinners, tours are some of the activities planned for the event.
Also, the Vespa Trophy 2011 winners will be announced during the gala dinner on May 21. Registered Vespa clubs in the trophy visit Piaggio Dealers on the way to Gjøvik and collect stamps to win.
For more information about the Vespa World Days and registration, visit http://www.vespaworlddays2011.no.