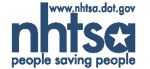 National Highway Traffic Administration (NHTSA)'s findings show that some novelty helmet users attempt to make their helmets appear to be compliant with DOT standards by misleadingly attaching stickers that have the appearance of  legitimate DOT certification stickers. Sellers and distributers of these labels claim that those letters coincidentally resemble the legitimate certification labels and that they stand for something other than "Department of Transportation".
Now, NHTSA is taking action, to make it more difficult to label novelty helmets misleadingly, effective May 2013, with a new rule, the certification labels on motorcycle helmets are going to change as follows: "DOT FMVSS No.218 Certified". Review the full rule here.
So, what is the meaning of this sticker, what does it mean to be DOT compliant? In 1973, National Highway Traffic Administration (NHTSA) issued a Federal Motor Vehicle Safety Standard (FMVSS) No. 218 for Motorcycle Helmets. The standard, specifying a set of safety performance requirements, is aimed towards reducing motorcycle deaths caused by traumatic brain injury and other types of head injury. And a DOT sticker on a helmet indicates that it fulfills the requirements of FMVSS No.218.
But today not all riders wear helmets that are FMVSS No.218 compliant. According to NHTSA, a significant number of riders wear novelty helmets. Tests performed by NHTSA showed that novelty helmets fail the safety performance requirements specified in the standard and that they will not protect the riders during a crash and will not likely be retained on the riders' heads in case of crashes.
Figures below show American motorcyclists by helmet type and helmet use by region (source: Traffic Safety Facts, Research Note, NHTSA).