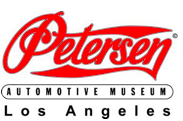 The Petersen Automotive Museum in Los Angeles, CA will be hosting a scooter exhibition displaying over 90 vehicles. "Scooters: Size Doesn't Always Matter" is going to take visitors through a journey in the history of scooters. The exhibition starting on June 18, 2011 and running through May 2012, will feature scooters from the simple Autoped of the 1910s to today's alternative vehicles.
Petersen Automotive Museum describes the exhibition in their recent press release as follows: "Scooters will show how this genre of motor bike has evolved from simple tube frames with motors to the sophisticated, comfortable, aerodynamic vehicles of today. The exhibit will also illustrate how scooters have been adapted to business and industrial uses, how they have been utilized by the movie and television industry, and how Southern California was once a major scooter manufacturing hub.
Wild or tame, foreign or domestic, old or new, scooters continue to offer a viable and economical alternative to other more traditional vehicles in our motoring landscape and provide a desirable means for free spirited motorists to boldly express themselves without saying a word."
For more info, visit Peterson Automotive Museum on the web.