Unfortunately, there are not many apps available to the scooter riders in the US, except the ones providing nothing more than brand information to the fans. These include apps, such as iVespa, The Genuine Scooter Company, i.Lambretta, People GTi, etc.
On the other hand Australia and Europe have some very useful apps. Get Twisted Pty Ltd in Australia offers, the Motorcycle and Scooter Parking app and Motorcycle Dealers and Workshops app. The first one helps finding a motorcycle parking spot and the latter one shows where to find a dealer, service, etc. Unfortunately, these apps are currently Australia centric and don't cover anywhere else in the World. Similarly, Bike Parking app helps to find parking in London. And  Tribal scoot is a digital comic available only in French.
So from the remaining apps, that can be used by American scooterists, we found only 2 to be particularly useful. Here they are:
App#1. Greatest Road Software
This application helps you find great roads based on recommendations and ratings from other riders.
Look for great roads near you or wherever you're headed
See how they're rated by other riders
Read comments that tell you generally about the trip or current conditions and hazards
Add new stretches of road and describe the trip for others to see
Email a stretch to buddies with iPhones and Greatest Road
Email a stretch to buddies as a GPX file to load into a standalone GPS
Single tap to access Google Maps to help you navigate the ride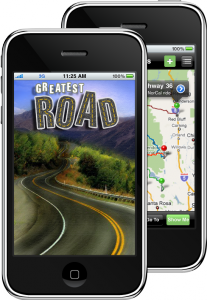 App#2. Rat On A Scooter XL
You always dreamed of being a rat on a scooter? This is your chance, in this fun scooter game, you kick start the scooter and head down to the abandoned suburbs, performing dangerous stunts and jumps on top of the scaffolds in Ratty's boldest adventure ever.