Last week, one popular topic in the news was, how increasing gas prices helped boost up scooter sales.
Finally, consumers started thinking about how they could cut down their transportation costs in terms of gas consumption.
OK, let's think about that… If we don't consider public transportation, shared commute or bicycling, one option would be to buy a hybrid car, and  another one  would be to get a motorcycle or a scooter. A hybrid car is not something everyone can afford, for example, a Prius starts at 23K.However, a second hand scooter or motorcycle can easily be purchased for under $2000.
But then again, not anyone can ride a motorcycle, you need to get a special license first, unless it is a 50cc scooter; many US states allow you to operate a 50cc scooter with a regular driver's license.
Given all these facts, a 50cc scooter looks like a good choice. And then, it is not only that you save costs, but you also help the environment by reducing your carbon footprint. Plus, riding a scooter is more fun then driving a car, but that is outside the scope of this article.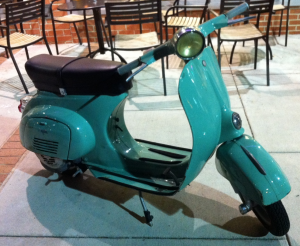 Well said, let's see  these savings in numbers… Vespa seems to have invested into this kind of research with Vespanomics.
If you haven't heard the term Vespanomics before, here is the definition from the Vespa website: "Vespanomics promotes embracing motor scooters as an alternative form of transportation to reduce oil consumption, pollution and traffic congestion".
Here are some very interesting facts from Vespanomics (and no Vespanomics is not a new concept).
Average fuel consumption:
Scooter: 70MPG
Prius: 47MPG
Average car:  30MPG
Scooters:
save you 57% gas over a regular car
produce 72% less CO2 then the average car