Have you ever wondered what it would be like to be a Mod in the 60s? All your pals riding around on their customized scooters, in their hyper cool clothes, meeting at coffee bars throughout the day, trying to avoid fights with Rockers, gathering to some dancing at all night clubs…
Mod, short for modernist, is a subculture that originated from England in the late 50s, which peaked through the 60s. Fashion, music and Italian scooters were significant elements of the subculture.
After the post World War economic recovery, people started getting more into leisure, while experiencing more freedom to spent money for themselves and towards their own interests, which lead to exploring new styles, such as Mod, Beatnik, Teddy Boy and Rockabilly.
The English town of Reading, located 40 miles west of London will be hosting an exhibition of the towns 60's Mods, who got strongly influenced by the culture in London. Reading Museum will be hosting the exhibition. According to the Museum, the exhibition intends to be an insight into the real Mod world, going beyond the popular myths.
The exhibition, Life Through The Eyes of a 60s Mod, Reading Steady Go, is based on Gabriele Scicluna's photos and memorabilia. The man who is in his 60s now, was a Mod himself back then in the 60s. He is also the guy seen riding a Vespa scooter in the expo logo.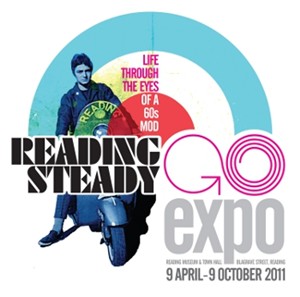 Mr. Scicluna was a scooter lover, he sold his Vespa seen in the picture when he was 16 and then bought a Vespa GS, and later a Vespa SS.
The exhibition starts on Saturday, April 9 and will continue through October 2011. If you are in England, don't miss it! For more info, visit http://www.readingmuseum.org.uk.