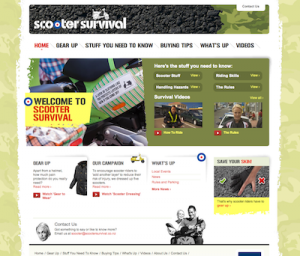 Those of us who have never been to New Zealand often see its beautiful nature on TV and simply can't help ourselves from admiring the country. But there are so many more things to admire about New Zealand. At least there are two more that are going to be mentioned in this article.
First one, there is an organization called ACC (The Accident Compensation Corporation) which provides comprehensive, no-fault personal injury cover for all New Zealand residents as well as temporary VISITORS! Isn't that great? Who does that?
In order to keep its costs low, ACC also works towards preventing injuries from happening. How do they do that? Simple: By educating people!
Which brings us to the second item, ACC teamed up with some key motorcycle groups to create the scooter survival website, which is admirable. Hard to believe there is a government behind that. The content is highly useful and the design is dynamic and modern. OK, it was intended for NZ, but most of the content is valid for any scooterist in the World. So go and benefit from it! You can find anything on the website, including tips on properly gearing up, buying, maintenance and handling. Not to forget the library of highly educational videos.
Currently, scooter survival is running a safety campaign called "Add another layer" aiming to get young scooter riders to cover up bare skin in order to reduce serious injuries during a crash. To promote the campaign scooters in the area are being dressed up in fabric. Watch this video to see how scooters are being stripped down and covered in fabric: http://scootersurvival.co.nz/videos/scooter-dressing/
Hope to see our government caring for scooter riders and spending some money towards educating scooterists one day.