European automakers, Mini, VW and Smart introduced their concept electric scooters earlier this year. The French automaker Renault seems to have taken a different path than its competitors. Instead of coming up with an e-scooter, the company introduced a car; an electric quadri-cycle with the heart of a scooter.
Twizy, the new vehicle from Renault is going to be available for sale in Europe in March 2012. The four-wheeled electric vehicle, has a similar engine and acceleration performance, to an electric scooter and it can be driven at speeds up to 50 mph.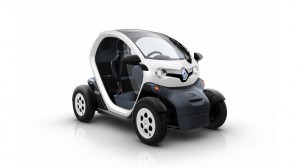 If you are looking for a cheap and small alternative to a car, but do not feel comfortable purchasing a scooter, the Twizy might be the right choice for you. It is small, lightweight and has the passive safety features of a car, such as seat belts and an airbag, while still providing the joy of open-air motoring.
Twizy comes with an integrated charger located under the front hatch and charging the vehicle takes approximately 3.5 hours. 4kW (5hp) and 15kW (20hp) motor versions will be available. If you are interested, you can reserve one for priority testing and ordering, of course only in Europe!