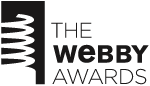 Congratulations to Vespa Italy's website for winning the People's Voice Webby Award for 2011 within the Automotive category. The Webby Awards have been the leading international awards for honoring excellence on the Internet since 1996.
Two Webby Awards are available for each category, The Webby Award and The People's Voice Award. Members of The International Academy of Digital Arts and Sciences select the nominees for both awards in each category, as well as the winners of the Webby Awards. However, people vote online to determine the winner of The People's Voice Award.
The winners of the 15th International Webby Awards were announced through a Press Release on May 3, 2011. The 15th Annual Webby Awards ceremony will take place on June 13, 2011, at The Hammerstein Ballroom in New York. The event is planned to be broadcasted live through Facebook to millions of viewers Worldwide. For more details on the Webby Awards live broadcast on Facebook, visit their Facebook page.
To see a a complete list of 2011 Webby Awards winners, visit the Webby Awards website.