The recent cooperation of Vespa USA with the award-winning Mint.com blog, Mint Life, is targeting to encourage consumers to rethink their transportation choices. Mint.com, is a free website that helps Americans manage their money. The site brings a user's all financial accounts together, automatically categorizes the transactions and lets users set budgets and achieve goals. Mint Life, on the other hand, is the award-winning blog of the website, with more than 1 million daily visitors, it has tons of articles about personal finance advice, money management tips and financial planning advice.
With the recent partnership, Mint Life has added motor scooter ownership to its portfolio of cash-conservation tips, to encourage consumers to rethink their transportation and commuting choices. An infographic of how motor scooters can change the urban transportation landscape, along with examples of how major U.S. cities from New York to San Francisco have joined the cause with special incentives for riders, is available at Vespanomics 2020.
With fuel prices on the fast track to $4.00 per gallon, finite U.S. oil reserves and a national mandate, the need for reducing gas and oil consumption and ultimately foreign oil dependence is more important than ever. Vespanomics 2020 data points out, that from 1990 through 2000, there has been an average annual increase of 2,325,000 licensed drivers in the United States.  Looking forward to the year 2020, it is estimated that there will be nearly 237 million licensed drivers in the U.S., each averaging 14,274 miles annually. If just 10 percent of these licensed drivers shifted 33 percent of their miles to motor scooters, gasoline consumption would be reduced by 3.9 billion gallons per year.  That's a reduction of 198 million barrels of oil from American ports, saving the U.S. $21.4 billion per year.  Motor scooters don't just sip fuel; the new generation also runs super clean.  This occasional switch to two wheels would also reduce carbon dioxide emissions by 77.3 billion pounds annually.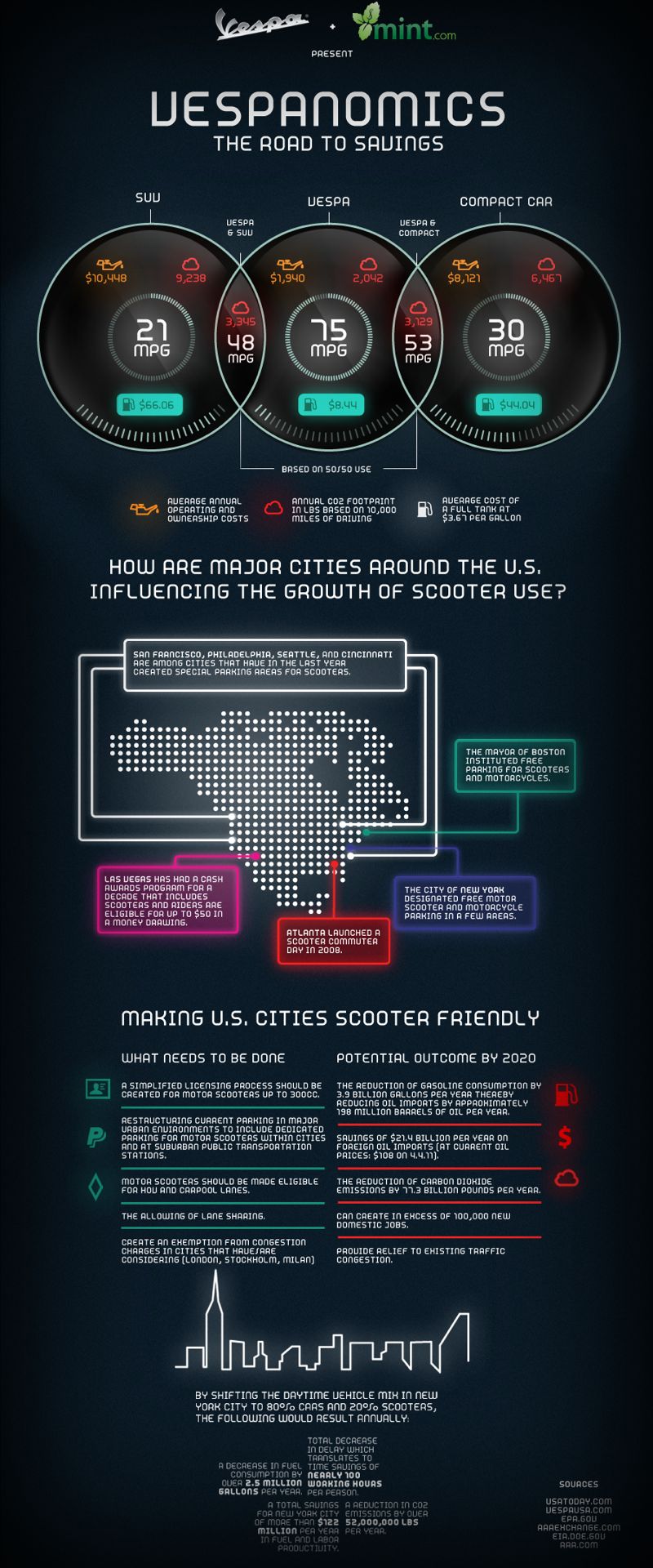 For more information on Vespanomics 2020, visit www.vespanomics.com.
Source: PR Newswire