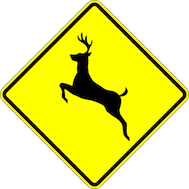 Whether you are chased by a dog, or you encounter a deer while scooting the mountains, if you don't know what to do, these encounters can result in serious collisions.  Many experts say that the best approach to survive such a collision is to safely avoid hitting the animal. The California Motorcycle Handbook adds: "If you are in traffic, however, remain in your lane. Hitting something small is less dangerous to you than hitting something big—like a car."
Here are some basic tips you might find useful.
Tips to avoid hitting a deer
If you encounter a deer on the road, be extremely cautious passing it. Slow down and be prepared to stop.
Watch for deer crossing signs. If it is a deer inhabited area, slow down, cover your brakes and watch the sides of the road. Slowing down will decrease your braking distance and will give you more time to react.
Deer are most active at dusk and dawn, so be extra cautious at those times.
Deer travel in groups, so if you see one, probably there are more, slow down and be prepared.
If a deer freezes seeing your headlight, flashing your headlight may break the spell.
Note that, if you swerve to avoid the deer, you might hit something else instead, such as an incoming vehicle or a tree.
What to do if you are chased by a  dog
If you are chased by a dog, start by slowing down and approach the animal slowly. As you approach it, accelerate away and leave the animal behind.