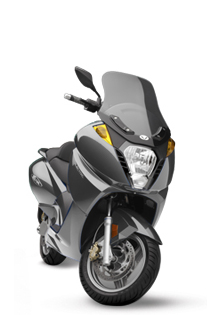 Lately not one day passes without an electric scooter being announced or released. It seems to be the new trend, the new direction to go for transportation innovators.
How about Vectrix, the company that announced its newest electric vehicle VX-2 back in January? Is it another company influenced by the boom into electric? Not really. In fact, the company was founded more than 15 years ago, in 1996, before it all started. The company is one of the pioneers in the commercialized electric vehicle industry.
Vectrix, originally located in Rhode Island, with development and research facilities in New Bedford, MA, got hit by the global economic crisis and filed for bankruptcy in 2009. At that time, Gold Peak Industries,  a public company based out of Hong Kong, which was also Vetrix's original battery manufacturer purchased the company. Vetrix now operates out of separate European and North American facilities.
With its new parent company, the company launched its VX-2 in January 2011. A slimmer and smaller version than the brand's initial product, the VX-1. The VX-2 scooter has a 40-55 mile range, with its cruising speed of 30 mph, it is intended more towards lower-speed urban neighborhood and small-town trips. On the other hand, the VX-1 Li+ is a powerful, all-electric, all-highway-capable electric vehicle that can go up to 68 mph and has a range up to 55-85 miles.
According to Vectrix, it only costs about a penny per mile to operate anyone of these scooters and recharging the battery is as easy as plugging it into a standard 110/220V outlet. Their website offers an online calculator that helps to compare economic and environmental costs of a Vectrix to other vehicles.
Besides their technical capabilities, both the VX-1 and VX-2 come with great designs.
For more information visit the company website http://www.vectrix.com/.